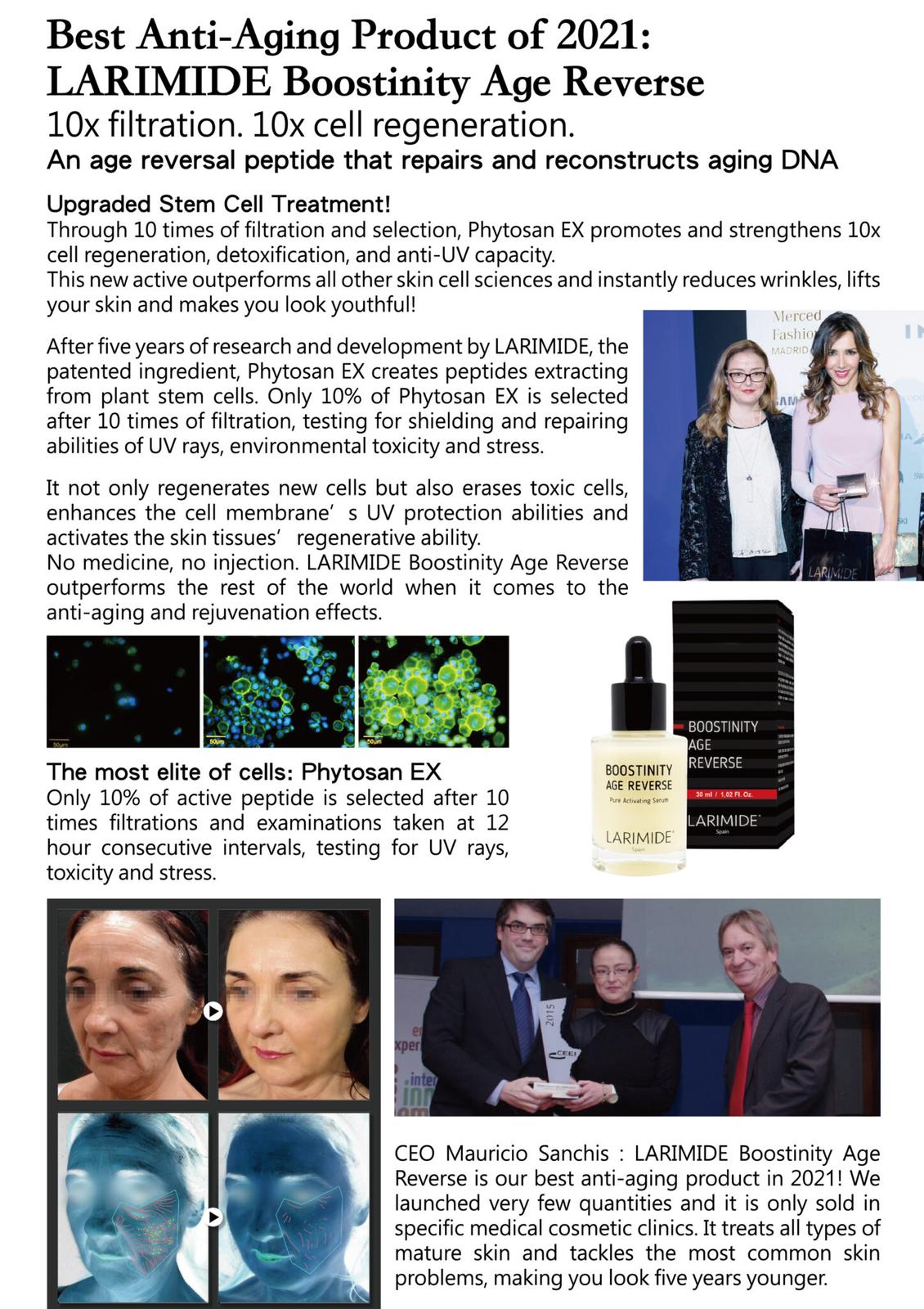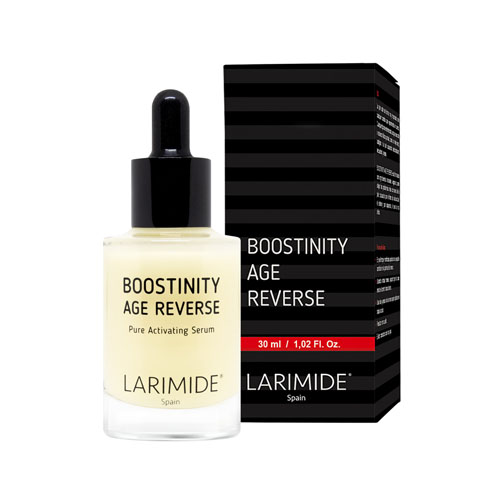 Boostinity Age Reverse
Pure activating Serum
10X filtration, reparation & rejuvenation
Stimulates skin cells
Shields from UV
Detoxifies from harsh environmental toxins
The Best Anti-Aging Product of 2021: LARIMIDE Boostinity Age Reverse
10x filtration. 10x cell regeneration.
An age reversal peptide that repairs and reconstructs aging DNA
Upgraded Stem Cell Treatment!
Through 10 times of filtration and selection, Phytosan EX promotes and strengthens 10x cell regeneration, detoxification, and anti-UV capacity.
This new active outperforms all other skin cell sciences and instantly reduces wrinkles, lifts your skin and makes you look youthful!
After five years of research and development by LARIMIDE, the patented ingredient, Phytosan EX creates peptides extracting from plant stem cells. Only 10% of Phytosan EX is selected after 10 times of filtration, testing for shielding and repairing abilities of UV rays, environmental toxicity and stress.
It not only regenerates new cells but also erases toxic cells, enhances the cell membranes "UV protection abilities and activates the skin tissues" regenerative ability.
No medicine, no injection. LARIMIDE Boostinity Age Reverse outperforms the rest of the world when it comes to the anti-aging and rejuvenation effects.
The most elite of cells: Phytosan EX
Only 10% of active peptide is selected after 10 times filtrations and examinations taken at 12-hour consecutive intervals, testing for UV rays, toxicity and stress. 
CEO Mauricio Sanchis: LARIMIDE Boostinity Age Reverse is our best anti-aging product in 2020! We launched very few quantities and it is only sold in specific medical cosmetic clinics. It treats all types of mature skin and tackles the most common skin problems, making you look five years younger.