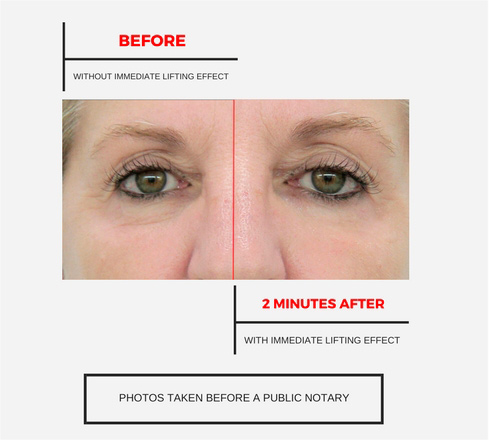 Immediate Lifting Efect is a potent immediate lifting effect serum that quickly and spectacularly hides wrinkles, fine lines and combats the loss of facial firmness. Furthermore, it helps the skin's repairing process.
Thanks to the sugar branches, a three dimensional network is created, with a large number of interactions between molecules and intercellular lipids of the stratum corneum membrane, the outermost layer of the skin. These interactions are maintained once the product is absorbed creating a film on the skin.
IMMEDIATE EFFECT
With LARIMIDE® skin instantly has an appearance of less wrinkles.
In two minutes we achieve a new level of perfection and firmness in the skin. The facial contour is firmer, smoother and defined.
It hides eye bags in record time.
LONG-LASTING ACTION OF WRINKLE REDUCTION
In just 4 weeks, skin looks smoother and regains its firmness and elasticity. 72% of volunteers showed a significant reduction in the appearance of fine lines (+33%) and (-17%) wrinkles.
Photos Taken before a public notary