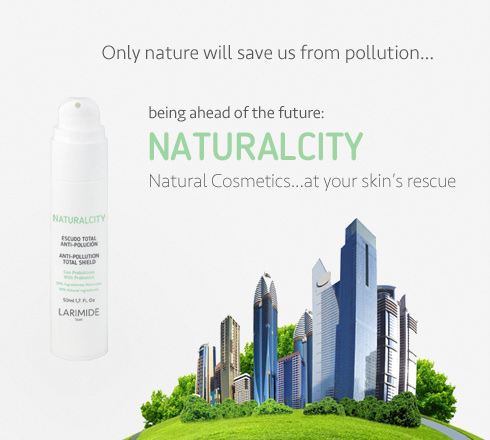 Only nature will save us from pollution...
The terrible environmental problem our society lives in has led to designing new cities completely covered with trees and plants that will help absorb the C02 of the area, thus, fighting pollution.
The city of the future:
Will be sustainable
Will renew and distribute energy
Will address water efficiency
Will manage waste
Will prioritize public and non-motorized transport.
At LARIMIDE we are ahead of the future with:
NATURALICTY is a daily treatment with 99% latest technology natural ingredients of vegetal origin combined with probiotics.
Based on clinical studies conducted in Guang Zhou (China), one of the most polluted cities in the world, NATURALCITY will help you fight dryness, flaccidity, premature aging, imperfections and lack of vitality in the skin.
It activates the mechanisms of self-defense of the skin (Hormesis), by stimulating the cellular markers of anti-oxidation.
Improves protection against indoor and outdoor pollution.
It protects against the adverse effects of pollution by restoring and preventing the degradation of the components of the barrier function and the extracellular matrix.
Protects against sunlight.
Rich in polyphenols, potent natural antioxidants, it manages to increase the formation of Flagrina and Loricrina, both proteins essential in the formation of the barrier function of the skin.
Increases resistance to cellular oxidation processes by activating a genetic cascade that synthesizes the antioxidant defenses of the skin.
It significantly increases the production of Catelicidin and Defensin, two vital proteins in the ability to increase cell proli-feration and cellular cohesion of the skin; essential to combat flaccidity.
Stimulates detoxification
Due to its content in probiotics, it helps to improve both the resistance and defense of the skin, repairing, calming and improving the balance of the epidermal barrier.
IN-VITRO STUDIES
In the presence of NATURALCITY, the expression of the HO1 protein, a fundamental protein in the natural defense response of the skin, is stimulated. The HO1 protein increases by 62%, confirming that it enhances the natural self defense system.
IN-VIVO SUDIES
It prevents cellular stress by UV radiation: in a formulation with 3% of NATURALCITY, the DNA of the cells is 54.4% more protected and inhibits the formation of reactive oxygen molecules (ROS) by 47%. 83% protection against cell and lipid oxidation is stimulated
CLINICAL STUDIES
An emulsion with 3% NATURALCITY was applied in 30 volunteers (age range: 30 – 50) twice a day for 28 days. 15 of them smokers and 15 non-smokers. The level of heavy metals deposited in the hair of the product is measured against a placebo.
NATURALCITY protects against environmental pollution and helps to have a more purified skin. Probiotics are acknowledged for their ability to support the immune system of our body.
With NATURALCITY this feature was added to the cosmetic care of the skin, promoting skin renewal processes, accelerating them and also improving their quality.