Do you want your eyelashes to be envied by everyone?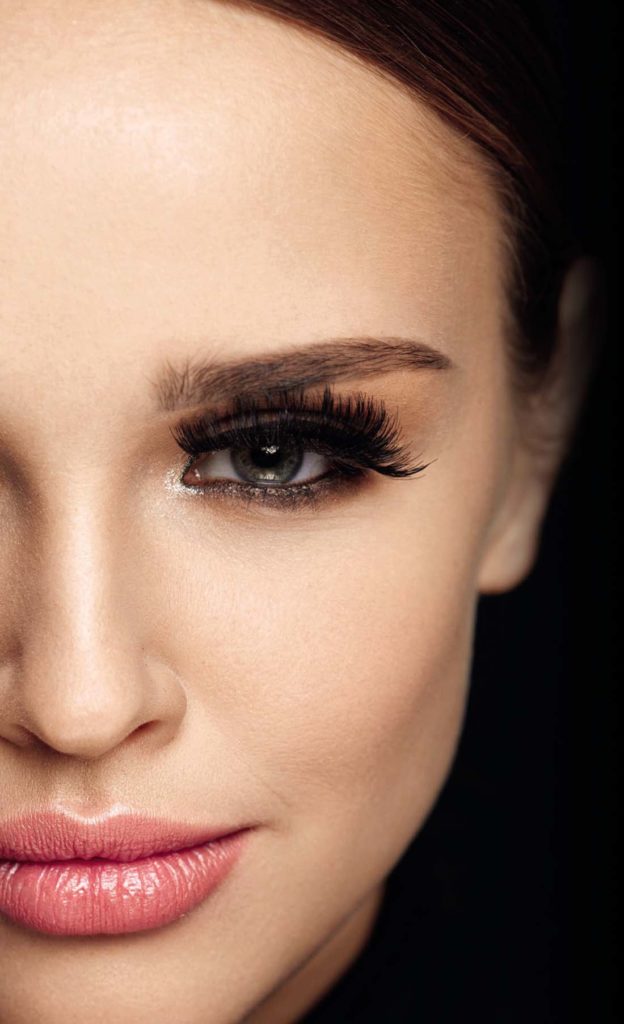 LAXH is a keratin enhancing serum with a light and velvety texture, totally invisible, that acts directly on the root of the eyelashes, improving its appearance, accelerating its growth and delaying its loss while defending them from the aggressive effects of other cosmetics or treatments.
With LAXH you will get longer and thicker eyelashes that will make your eyes intense and glamorously more attractive, they will give shine to your face, they will bring you confidence and will take your capacity of seduction to a new dimension.
Forget about thin and short eyelashes. With LAXH you will have longer, denser, stronger and healthier eyelashes. And, above all, 100% your own lashes.
Anatomically speaking, the hair on the eyelash is similar to the rest of the body. However, from 40 years, the duration of follicular cycles is shortened. In addition, the stress in which we live, hormones, poor nutrition, UV pollution, causes both loss of thickness and volume of the eyelashes.
LAXH contains proteins that reactivate the capillary cycle by nourishing, protecting, detoxifying, strengthening, redensifying, revitalizing and reactivating the capillary cycle.
LAXH is designed specifically for eyelashes. However, it can be used on the eyebrows, eliminating "bald spots" and gaps.
IN-VIVO TEST RESULTS
Clinical studies on the stimulation of the growth of the eyelashes made during 30 days with 30 volunteer women: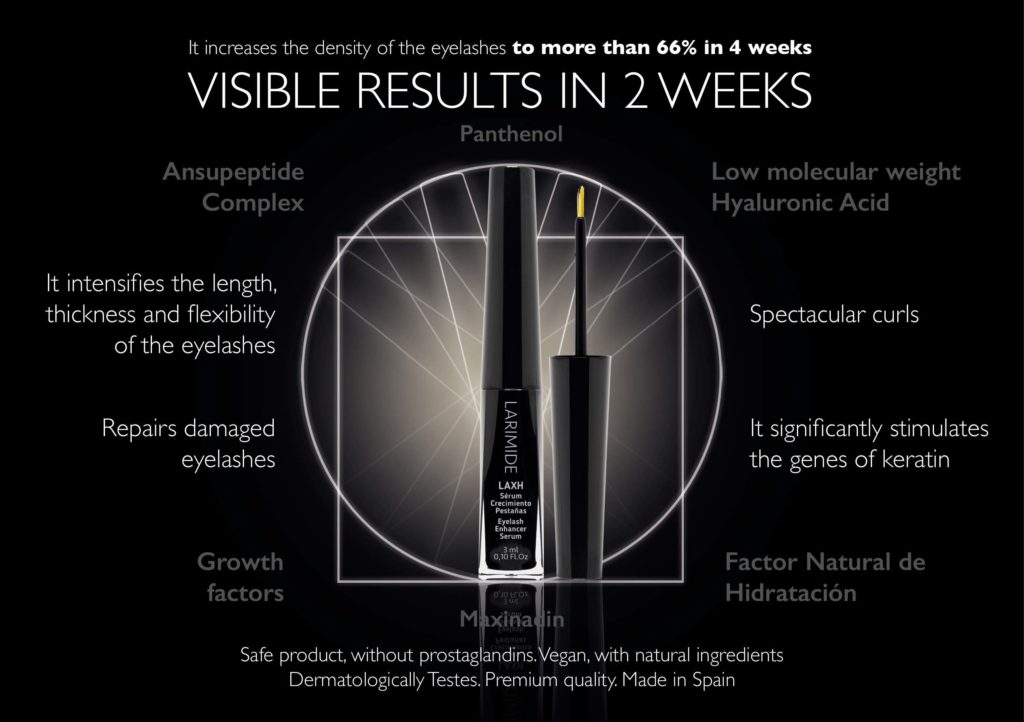 Ansupeptide Complex, a combination of lipo-oligopeptides, bioavailable totally safe for the skin that intensify the length, thickness and flexibility of the eyelashes.
Low Molecular Weight Hyaluronic Acid. It fills the eyelashes and protects and prevent them from breaking.
Growth Factors that reactivate, redensify and strengthen lashes. Also bring volume, new lashes are born and their loss is much smaller.
Natural Hydration Factor. It absorbs atmospheric water, keeping lashes hydrated and helping them to have a greater elasticity, to diminish breaking. It helps to avoid the transepidermal loss of water.
Maxinadin. Cosmetic complex rich in natural extracts that acts directly on sensitive skin, free of irritating ingredients, which stands out for its intense and lasting regenerating and anti-inflammatory power. It is used to minimize the risk of a possible allergy or intolerance.
PANTHENOL. It helps to maintain an optimal proliferation of keratinocytes to ensure hair growth. In addition, it strengthens the dermis / epithelium junction, providing an optimal anchor for the hair.
WITHOUT PROSTAGLANDINS. Prostaglandins are chemical compounds that are found naturally in almost all tissues of our body that are responsible for signaling inflammation. To date, some cosmetic brands have used prostaglandins with very good results in the growth of eyelashes but with dangerous side effects such as blurred vision, red eyelids, permanent darkening of the iris, burning sensation, darkening of the eyelid both externally and internally.
On the clean, dry upper eyelid, apply a small amount to the root of the eyelashes with the high-definition LAXH brush, which covers and separates each eyelash without crowding.
Allow to absorb completely if you have to use your daily skin care.
At the beginning of the treatment, apply uninterruptedly for two months in the morning and at night, before going to bed. Once the starting phase has passed, it can be reduced to 3 days per week as maintenance.
LAXH is tested ophthalmologically and dermatologically, it does not have any contraindication but it should stop being used in case of redness or irritation in the skin.
NOTE: LAXH should not be applied directly on the eyelashes but on the skin closest to them, on the root. You do not need to use a lot, with moistening once the brush inside the container is enough for both eyes.
LAXH is a Vegan product, manufactured in Spain Laboratorio Español de Investigación Cosmetológica with natural ingredients and:
It does not contain prostaglandins
It does not contain Bimatoprost
It has not been tested on animals
It does not contain animal ingredients
It does not contain sulphates
It does not contain parabens
It does not contain silicones
It does not contain toxic products